Beer, furniture, coffins once sold at Madelia address – Mankato Free Press
Jim Pettersen decided to rebuild after a fire destroyed his water-conditioning business in Madelia's historic downtown last year. About two weeks ago, his staff moved into their new digs.
The Culligan store at 103 W. Main St. is one of several businesses opened at that address throughout the decades.
Travelers as well as residents once stopped there for a cold beer when the building on site was a clapboard two-story and the town's watering hole. Later, the structure was a place to purchase coffins and furniture. Throughout the 1960s and 1970s, it was a variety store with aisles full of items for sale.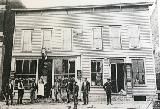 Madelia researcher Barb Nelson is uncertain what types of businesses occupy the space before the start of the 20th century. Nelson, the executive secretary for Watonwan County Historical Society, did find in the museum's archives a photograph of an establishment that served alcoholic beverages at the address a little over 100 years ago. Nine men, including an aproned bartender, posed near its entrance when the image was snapped.
• The building was then the Leo Rock Saloon, which was in operation at the site between 1905-1914.
• Brothers Louie and Ernest Schuetz — morticians who also sold furniture — opened a newly built store at 103 W. Main in October 1915. Their business was described in a local newspaper as having "one of the best furniture display rooms in southern Minnesota."
• Feb. 2, 1918, Torstein M. Teigum and Alfred M. Olson took over the Schuetz Brothers' business. Louie and Ernest had retired, but they agreed to stay on and help out the young new owners.
Teigum, who was born in Lillehammer, Norway, came to Madelia with his parents in 1905. He had worked at the Olson family general store and had plans to study embalming methods and become an undertaker. He ended up serving in the military during World War I instead. After his return to Madelia, he worked at the M. Olson store and owned a haberdashery and shoe store for a few years. From 1923 to 1936, he was the town's postmaster.
Alfred Olson lived in Madelia throughout his life and remained associated with his family's grocery and dry goods business. When he died in 1969 at age 94, he was considered the community's oldest man.
• Charles A. Amann of New Ulm became the next proprietor at the location. His ad in the Aug. 15, 1919, Madelia Times Messenger assured would-be customers he was a licensed undertaker and possessed qualities which spell success. Amann also promoted his expertise in framing pictures and repairing furniture.
About a year later Amann put his stock in the hands of Flick Sales Company for quick disposal.
• Ole F. and George Holley, sons of Norwegian immigrants, moved their furniture business to the vacated building early in 1920. The Holleys, who were undertakers, purchased a large house on East Main Street in 1931 and began to convert it into a funeral home.
Ole is credited with the establishment of Watona Park. In 1935, he led a village vote to purchase 42 acres once used as a race track.
After his brother's death in 1935, George operated the funeral business for a time. His nephew J. Donald Sandberg took over in 1945.
• Sandberg Furniture operated until 1958. Its owner was a graduate of Madelia High School and the University of Minnesota School of Mortuary Science.
Sandberg was a supporter of the Boy Scouts and the Madelia community. He served on the hospital board and was a charter member of the Rotary Club. He served on Gov. Elmer Anderson's Small Business Committee and on the state board of funeral directors.
• Harlan Hayden purchased Sandberg's furniture business in 1958. Hayden also owned a building at 29 W. Main St.
• In June 1960, the building was sold to Kenneth Devney of Mankato. The west two-thirds of the building would be used to house the new Skogmo Store, while the east third was retained by Hayden's Furniture. The back of the building was rented for office space.
Howard and Hazel Cox opened Skogmo's Variety Store in August 1960. They sold ladies and children's clothing, men's work clothing, shoes and dry goods at the remodeled building with a new tile floor and light fixtures of the latest design.
Before coming to Madelia, the Coxes had operated a Gambles store in Amboy for 23 years.
In 1971, Mr. Cox moved the store across the street to 22 West Main St., the former Red Owl grocery store.
• In November 1971, Gerald Gideon moved his Culligan business to 103 West Main because he needed more room for storage and loading trucks. Gideon served as a Watonwan County commissioner and on the Madelia City Council. He sold the Culligan dealership in 1994, although he stayed on as an employee for the next five years. Jim Pettersen became the manager of the Madelia Culligan in 1994.
This article is part of an occasional series detailing the histories of buildings in downtown Madelia to be published as Glimpses of the Past throughout the year.
CommentsWrite a Reply or Comment:
You must be logged in to post a comment.