In the race to disrupt Craigslist's saggy-sofa trade, a little startup called Move Loot just took a big step. On Thursday morning, the company began connecting used-furniture sellers with buyers in Los Angeles and New York, linking an untold pile of weathered coffee tables and creaky dressers with the operations it already has in Atlanta, Charlotte, Raleigh-Durham, N.C., and around its Oakland (Calif.) headquarters.
Basically, Move Loot is a consignment shop mashed up with a Web store like Etsy and a delivery service like UPS. It has about 100 employees that will pick up old furniture, give it light refurbishment, list it online, and deliver it to a buyer. The seller gets 50 percent of the sale price and doesn't have to create an online profile, worry about shipping, or even snap a series of fuzzy photos in terrible lighting.
"Craigslist is the real alternative," says Chief Executive Officer Bill Bobbitt. "And if you're selling six things on Craigslist, they go to six different places after hundreds of phone calls and e-mails. Originally, that's what we wanted to solve."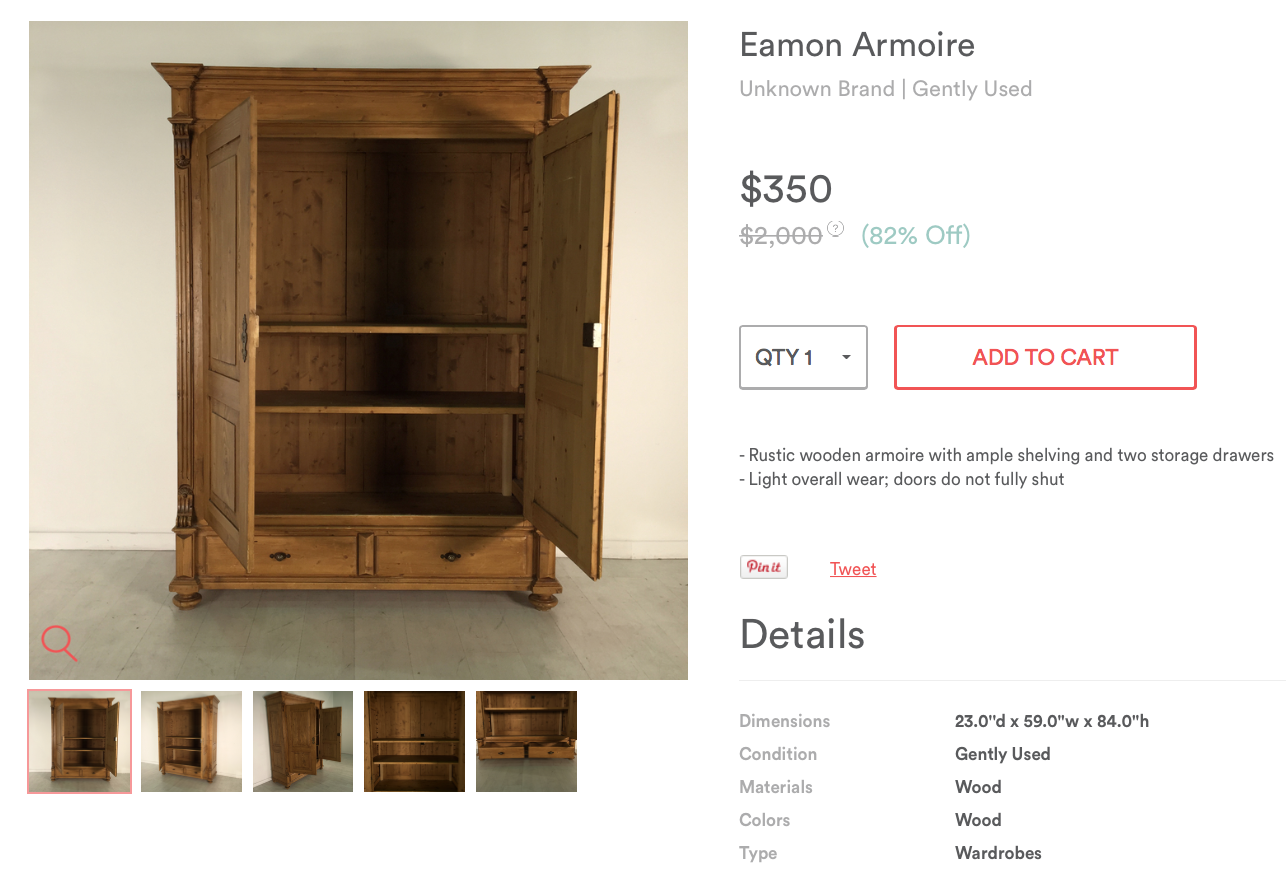 If a piece doesn't sell after 30 days, Move Loot cuts the price by 40 percent; if it's still sitting in storage after 60 days, the source can either take the furniture back or have it delivered to charity. At the moment, Move Loot has 6,000 items listed on its site, a number that it expects to quickly double with the addition of sellers in Los Angeles and New York.
Silicon Valley, for one, thinks Move Loot is onto something. A spawn of the Y Combinator startup incubator, it raised $2.8 million in seed funding last summer in an investment led by First Round Capital and Index Ventures. In February, it gathered an additional $9 million in a round that was led by Metamorphic Ventures and included Google Ventures.
To be sure, there's no shortage of companies trying to corner the used-couch market and scale it up online. New York City-based Viyet, which just passed the two-year mark, has a model similar to Move Loot's, though it is far more focused on name brands and requires a minimum retail price of $1,000 for furniture pieces. It raised $1.5 million in seed funding in the fall. Chairish gives sellers up to 80 percent of the final price, and AptDeco offers insured delivery, though it hasn't stretched beyond New York City.
Move Loot, meanwhile, is doing things the hard way. The logistics of hauling furniture around isn't easy or cheap, nor is refurbishment, assembly, or in-house photography. A company like Etsy doesn't have to worry about any of those things; it simply provides a platform and collects a fee. And there are plenty of potential — and not immediately obvious — problems when a prospective seller pitches a product to Move Loot. Chief among them: bedbugs and strange smells. The company turns down some 30 percent of proposed products.
"The logistics part is very scary," Bobbitt says.
It's also, however, Move Loot's best chance of beating its competition. If logistics were easy, Amazon.com would still be a scrappy bookstore. Sure, Move Loot has a slick, consumer-facing app. But more important, it has developed a separate internal app that scans QR codes, tracks inventory, and automatically routes its drivers for pickups and deliveries.
At the same time, Move Loot is building a hub-and-spoke distribution network, with the central points being a warehouse in North Carolina and another in Fresno, Calif. A used bureau from Manhattan's Meatpacking District may now find its way to a starter home in the Atlanta suburbs. The more cities the company tacks on, the more liquid and efficient its market becomes.
Move Loot is also making headway with brick-and-mortar consignment stores that don't have much of a Web presence. And one in five of the furniture pieces on its platform come from companies, rather than individuals—including retailers, interior design shops, and real estate developers who stage homes for open houses.
What's most encouraging to Bobbitt is that about half of Move Loot's sales are from repeat customers. "People are starting to get into a flywheel effect," he says. "They think: If I buy something from Move Loot, I can sell it at Move Loot, so it's not really a sunk cost."
If all goes as planned, Move Loot and startups like it may shift the way a vast number of consumers think about their stuff. At the very least, they'll change the way people view a trip to Ikea.