Durham Furniture revamps Perfect Balance website – Furniture Today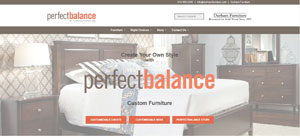 Durham Furniture has upgraded its Perfect Balance website to help customers better visualize and choose from its many custom options.
DURHAM, Canada – Solid wood bedroom and occasional furniture manufacturer Durham Furniture has relaunched its Perfect Balance website, www.perfectbalancefurniture.com, to help customers better visualize and select from a range of custom options.
The Perfect Balance line, launched around 2012, offers more than 40 finishes and 17 hardware styles. Pieces are also scaled slightly smaller than the company's master bedroom line, making it suitable for apartments, condos and other smaller scale living environments as well as youth bedrooms.
Evidence of the youth bedroom application was seen in the new youth gallery of Furnitureland South, which had a number of Perfect Balance sets on display.
The home page of the revamped site has tabs that allow viewers to customize chests in various finish and hardware options. Beds can be customized with different finishes, headboard and footboard options, and side rail options.
The site also has a 360-degree item rotation tool with zooming capabilities that allow customers to view various features, including the finishes and even wood grains, up close.
There are also social media tools that allow users to post the pieces they designed to Facebook, Twitter, Pinterest and other platforms. They can also print the images, email them to friends and save them to their favorites. In addition, a "where to buy" feature shows them the closest retailer in their area where they can buy Durham product.
These and other features mimic some of the improvements on the Durham Furniture website, www.durhamfurniture.com, which has improved search capabilities that allow users to search by category, collection, style or size.
"Quick customization is key for consumers today," said Luke Simpson, president and CEO of Durham Furniture. "The new technology featured on our revamped website offers remarkable rendering speeds and provides consumers and our growing customer base of interior designers with the tools they need to make their custom order selections quicker than ever before. In addition, our retailers will benefit from being able to present more product choices in a much smaller retail footprint virtually through the website.
"The investment we have made in our Perfect Balance Collection is yet another step in a larger strategic plan that will continue to unfold as we promote our position in the marketplace as a leading solid wood furniture producer in North America," he added. "It speaks to our ongoing commitment to increase demand for Durham Furniture products and to direct consumers to dealer stores."
CommentsWrite a Reply or Comment:
You must be logged in to post a comment.