Hooker Furniture's Upside Has Been Captured – Seeking Alpha
The consistent story in residential furniture the last 2-3 years has been inconsistency. Bassett Furniture (NASDAQ:BSET) looked like a small-cap gem with a long runway until sales growth suddenly stalled out. A multi-year transformation at Ethan Allen Interiors (NYSE:ETH) looked like a huge success until the last two quarters. RH (formerly known as Restoration Hardware) (NYSE:RH) went from $100+ in late 2015 to $25 in late February and has climbed 130% since.
Hooker Furniture (NASDAQ:HOFT) has had a wild ride itself. In January 2016, the company announced a well-received acquisition of privately held Home Meridian. HOFT began a 50% run with a ~20% jump on the day of the announcement. A weak Q4 three months later wiped out all of the gains. A post-election run pushed the stock back to all-time highs; as the calendar turned to 2017, investors sold off HOFT (and the space). And then, after a monster Q4 beat in early April, HOFT jumped and kept climbing; at Friday's close of $45.70, the stock trades at an all-time high and has gained 40%+ in a month.
It's hard not to view the recent gains through the prism of recent history for both the stock and the sector. Hooker's Q4 was impressive, and FY17 results as a whole were solid. But the valuation looks full, particularly relative to the stock's historical valuation; Hooker's outlook and performance deserve some premium, but the spread is rather substantial at this point.
Meanwhile, the story of the sector the last few years is that none of the publicly traded players really can drive much in the way of consistent outperformance. Whether that's general macro choppiness, share gains by Wayfair (NYSE:W), or just uneven performance at the company level isn't clear. But it makes it tough to try and jump on the run in HOFT, which is getting a reasonable multiple in an industry that hasn't proven it can support that multiple for more than a quarter or two at a time.
A Strong Q4
Admittedly, there's a good reason for the strong gains post-Q4, even excluding the fact that HOFT had dipped heading into the quarter. Results crushed the sole analyst estimate, with revenue coming in 11%+ above that projection and EPS of $0.95 beating the profit estimate by $0.29.
Pro forma figures for Q4 are limited, but data from the 10-K shows a huge increase. On that basis, revenue increased 14% year over year and EPS rose 28%. The strength appears to have come from both segments: Home Meridian revenue increased 23%, per the Q4 conference call, which implies a more modest, but still positive, top-line growth contribution from the legacy Hooker business. Hooker's operating income rose 32%, however, thanks to operating leverage.
It was clear back in January that Hooker management – not a group predisposed to cheerleading – was tipping a strong Q4. But the quarter beat even those expectations, and the same management seems strongly confident toward FY18 (Hooker fiscal years end in January). CEO Paul Toms cited "a distinct uptick at retail" after the election ended. HMI orders were up 19% in February and March; Hooker's casegoods orders rose 11%, though upholstery weakened.
There is a lot of room for optimism coming out of the quarter, though perfect understanding of the numbers is a bit difficult due to the HMI acquisition. The one weak spot continues to be Hooker's upholstery business – but short-term issues there, including quality problems last calendar year and labor shortages at the Sam Moore unit, have hurt numbers in FY17 and should recede by the end of this month, per the Q4 call.
Again, there's logic behind the post-Q4 gains. But there's also cause for caution looking forward, for a number of reasons.
Reasons For Caution
1. It's really just one quarter
Here are Hooker's consolidated numbers on a pro forma basis by quarter:
Data from Hooker 10-Q and 10-K filings
Q3 EPS improved, but revenue remained weak: full-year pro forma revenue for the full year actually was flat. Yet, off basically just those last two quarters (Q3 results were released in early December), HOFT has spiked almost 70%: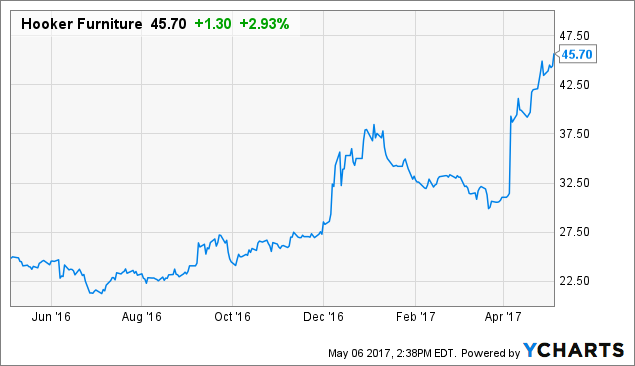 It might be unfair to paint HOFT with the sector-wide brush, but we've seen these 1-2 quarter spikes before at BSET, ETH, and even RH. It does look like Q1 will be strong as well, which mitigates the impact somewhat. But from there, Hooker also has basically one quarter before comparisons pick up again.
In the case of Hooker, there are some mitigating factors. The recent strength has been in casegoods, which actually has been the far weaker segment across the industry. Hooker has room for improvement in upholstery – and that operational improvement could be amplified by better demand trends in that space. The H Contract business – which supplies senior living facilities – is growing 30% and gives Hooker some diversification outside of the residential space ("all other" revenue, however, which includes H Contract, was less than 2% of the FY17 total). Costco (NASDAQ:COST) is a 10% customer, and demand there should remain solid.
Still, a near-20x multiple implies a consistency that neither Hooker nor peers really have been able to drive in the post-crisis environment. And, that seems to raise a risk come Q2/Q3 results in the second half of CY17.
2. A timing change helped that quarter
Part of the Q4 strength came from new collections which Hooker made available for shipment in Q4 instead of into FY18. That strategy seems wise, and obviously, the products have been well-received.
But the shift also provided a one-time boost to Q4 numbers which won't be repeated (though Hooker didn't disclose the size of that boost). Toms said on the Q4 call that the strategy would be repeated next year, so there won't be a corresponding fall-off in Q4 FY18 numbers. At the same time, however, there won't be another jump next year in either orders or shipments, given a more apples-to-apples comparison.
3. Ocean freight shipping rates are at historic lows.
Gross margin in the legacy Hooker business increased 180 bps this year – primarily due to lower ocean shipping rates. Home Meridian benefited from the trend as well, per the 10-K.
Against a consolidated adjusted EBIT margin (backing out intangible amortization) of 7.34%, freight costs likely added at least 50 bps of benefit this year. Adjusted margin, on a pro forma basis, increased 52 bps year over year, using pro forma figures from an 8-K/A filed last year.
There is room for fixed-cost leverage if full-year revenue trends improve in FY18, as appears likely to be the case. But when those rates normalize, it could provide a fairly reasonable headwind to Hooker's margins. That hasn't come yet and isn't a risk to either Q1 or Q2 numbers. But it's not too hard to imagine normalizing rates and tougher Q3/Q4 comparisons changing the story here toward 2H CY17/1H CY18.
Valuation
On a peer P/E basis, HOFT doesn't look all that expensive. ETH and BSET are about 19x trailing EPS plus cash; RH at ~28x FY17 consensus (which assumes substantial year-over-year growth); and La-Z-Boy (NYSE:LZB) at 15.6x. HOFT's 19.5x trailing multiple fits right in with ETH and BSET – with both those companies coming off much weaker quarters (ETH, in particular).
But that near-20x multiple is a high for HOFT, which traditionally traded much closer to the mid-teens. ETH, in particular, is priced for a bit of a mini-turnaround, and BSET has some easy comparisons coming this year, which suggest reasonable growth itself. I can see a case for HOFT to get a turn or two premium on a peer basis; but a 20-21x multiple for this business requires a belief that the business truly has hit an inflection point since the HMI acquisition. (It also requires a belief that the housing cycle isn't nearing an end anytime soon.)
Adjusted EPS for FY17 by my numbers (excluding intangible amortization) was $2.35. It may not seem terribly aggressive to model mid-single-digit top-line growth this year (assuming a strong Q1 fades somewhat on a relative basis, particularly given Q4 comparisons) along with 40-50 bps in operating margin improvements. The combination likely drives double-digit EPS growth, getting FY18 figures to the $2.65 range. (For what it's worth, the sole analyst is at $2.77.)
So, if Hooker continues the performance of Q4, in particular, there's likely room for more upside. No multiple expansion and double-digit growth get the stock over $50 and likely appreciation of 12-15%. But that's a big 'if' and not necessarily a huge amount of reward for cyclical exposure. And, as good as Q4 looked, I'm still not convinced that there's a multi-year, or even multi-quarter, runway here.
More broadly, the lesson in residential since the crisis largely has been that paying 20x+ P/E is a good way to wind up disappointed. It may be that Hooker can do what peers haven't. But HOFT already is pricing in some of that success, and to be honest, I'd like to see more than just one or two quarters of strength before I'm ready to bet that Hooker can consistently outperform its space.
Disclosure: I/we have no positions in any stocks mentioned, and no plans to initiate any positions within the next 72 hours.
I wrote this article myself, and it expresses my own opinions. I am not receiving compensation for it (other than from Seeking Alpha). I have no business relationship with any company whose stock is mentioned in this article.
CommentsWrite a Reply or Comment:
You must be logged in to post a comment.