Is the furniture sector as overstored as the rest of retail? – Furniture Today
HIGH POINT — A new real estate research report suggests recently announced store closing by Sears Holding, Macy's and The Limited are a symptom of severe oversupply of retail stores, and that the sector needs to cut about 1 billion square feet of U.S. space to reverse the trend in declining sales per square foot.
But the furniture industry doesn't appear to be listening.
In the CoStar retail outlook report, Suzanne Mulvee, director of U.S. research, retail for CoStar Portfolio Strategy, said the problem boils down to productivity, and "retailers on average are generating fewer sales per square foot than they did during the decade leading up to the recession." More retailers are now moving to close stores or seeking rent relief, she said.
The report points to the continuing market-share grab by e-commerce players and noted that a basket of publicly held retailers were posting sales per square foot of more than $350 at the beginning of the past decade — prior to the great recession. The same group is now posting sales of less than $330 per square foot, the report said.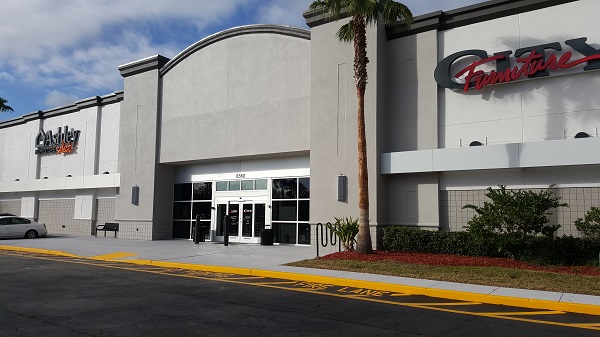 City Furniture's new Ashley HomeStore Select and City Furniture location in Vero Beach, Fla., is one of many Top 100 company expansion moves expected this year.
But in the furniture realm, if anything, the industry has been seeing more expansion than contraction from some of the largest players, and several have indicated the growth will continue this year.
Furniture Today will have updated numbers later this year in its next Top 100 report, but with only a handful of exceptions, the Top 15 stores on the most recent list were in expansion mode in 2015, continued that trend in 2016 and are poised for more growth this year.
Take for instance Bob's Discount Furniture, which just announced plans to jump to the West Coast with its first Los Angeles-area stores in 2018. The Manchester, Conn.-based retailer pushed into Baltimore and Pittsburgh in 2015, just added its ninth and 10th stores in greater Chicago, which it entered in 2016, and will enter St. Louis, Milwaukee and Indianapolis with openings later this quarter.
Then there's Swedish home furnishings giant Ikea, which opened its 43 U.S. store in Memphis, Tenn., late last year and has more on tap for Columbus, Ohio; Jacksonville, Fla.; greater Dallas and greater Indianapolis.
The growth moves extend down the Top 100 list, too. Tamarac, Fla.-based City Furniture just entered Vero Beach, Fla., with a combination City Furniture and Ashley HomeStore Select complex, and later this year, Miami Gardens, Fla.-based El Dorado Furniture will open its second Gulf Coast store in Naples, Fla.
Other examples: California's Living Spaces, which expanded into Las Vegas late last year and is eyeing a move into Austin, Texas, in 2018; and Jackson, Miss.-based Miskelly Furniture, plotting its first move into a new market.
The median sales per square foot figure for the Top 100 has been on the rise, too — for five straight years through 2015. While average sales have yet to reach the low end of the retailer basket noted in the CoStar report, median sales per square foot, based on 30 Top 100 estimates, was $270 in 2015 up from $262 for the Top 100 in the previous year.
Industry real estate expert Julius Feinblum said one big reason why the furniture industry hasn't appeared to suffer from the same oversupply problem of the broader sector is the Internet and the rise of e-commerce companies such as Amazon and Alibaba. They've been hurting mall-based retailers and big-box retailers in certain categories much more significantly than furniture stores, he said.
"In the furniture industry, although there is a marked increase in Internet sales, it is much less affecting the retail footage," said Feinblum, founder and chairman of Plainview, N.Y.-based Julius M. Feinblum Real Estate.
Many of the online sales in home furnishings continue to be for smaller items, such as accessories, he said. At the same time, Feinblum said savvy furniture stores are figuring out ways to bring online traffic to the stores and vice versa. And they're giving physical stores credit for certain online sales when brick and mortar plays a role in the purchase, which is keeping salespeople happy while maintaining the profitability of the physical locations.
Asked if the furniture industry is overstored like many other retail sectors, Feinblum said it generally is not but added that the question is broad and depends on the geographic area. Indeed, Feinblum's company makes its living helping retailers determine exactly where expansion makes the most sense.
If anything, the continuing consolidation in other retail sectors could lead to new growth opportunities for furniture stores, he said.
CommentsWrite a Reply or Comment:
You must be logged in to post a comment.