Italy trade tour facilitates furniture connections – Furniture Today
FROSINONE, Italy — Made in Italy might soon be coming to a showroom near you.
Last month, a group of invited architects and designers visited with 25 Italian manufacturers in the Lazio region of Italy, meeting with the business owners and learning about a diversity of product including furniture, accessories, textiles, lighting and building materials. An event hosted by the Italian Trade Agency, the Made in Italy Furniture and Design Solutions expo took place in venues near Frosinone, a central Italy industrial hub, to facilitate partnerships between Italian businesses and the high-end U.S. residential and commercial furnishings market.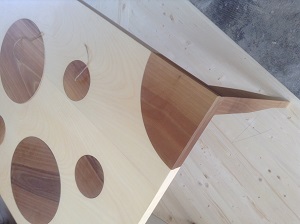 Handcrafted case goods were part of the line shown at Moow, a multidisciplinary company.
A combination of business-to-business meetings and factory/showroom visits, the expo took place at Il Mantova del Lago, a Michelin-guide restaurant and meeting venue in Posta Fibreno, a municipality in the province of Frosinone in Lazio.
"I am always looking for new products and new innovations in design technologies," said Nick Gigante, a senior project manager with BRPH in Melbourne, Fla. "Italy is well known and respected in the world of design and architecture, and I find that I also learn something new at these types of events."
Gigante added that contrary to what many U.S. designers, architects and buyers might think, Made in Italy products are not cost prohibitive. He said that when the Italian companies have a U.S. representative to promote their goods, it facilitates the export process.
"The biggest misconception I find (about Italian goods) is that Italian design and products are very costly," he said. "The other misconception I see is that some of the products are only designed for aesthetical value and not for functionality."
Gigante pointed out that the product craftsmanship and design at each company he visited was impressive. He noted that he will likely explore future collaborations with some of the businesses he visited and pointed out the innovation of two companies that were part of the expo.
On a tour of the Associazone Distretto del Design offices, the U.S. group previewed several fabric lines, including Stefano Abbate, along with several signature furniture pieces the company has designed. President Luciano Rea showed the group some of the firm's iconic pieces, one an upholstered chair with "antlers" and the other a solid wood dining table/desk with a stainless steel insert in the shape of Italy.
At the MBM Bilardi facility, the architects and designers previewed a line of luxury billiard tables that can be converted into dining furniture, a high-end multifunctional line with traditional and contemporary style options. The tables can be customized for each client, with some topping the $30,000 price point.
Furnishings presented as art was a key element for several of the participating Italian companies. Carlo and Rita Turri showed art created with inlay techniques that began in the Renaissance, while Gina Valoroso presented furniture and wall panels combining wood with poured and fused metal. Valoroso said that the expo provided valuable interaction with potential U.S. customers.
"In an increasingly connected and fast world, internationalizing a small, handcrafted and artistic business is an important and essential step," she said. "It is really difficult to advertise even fine products on the international market for small businesses."
Valoroso added that the feedback from the American architects and designers was positive and added that like many businesses in Italy, a key objective for Materiko is finding the right partners outside of the country's boot-shaped borders.
"To sum up, our goal is to create an object that has the uniqueness of an art piece and the usefulness of furniture," Valoroso concluded. "This event offered us the opportunity to create a collaboration between our chambers of commerce and a potential high-level partnership between the Italy and United States."
CommentsWrite a Reply or Comment:
You must be logged in to post a comment.