Motion bedroom furniture category taking off – Furniture Today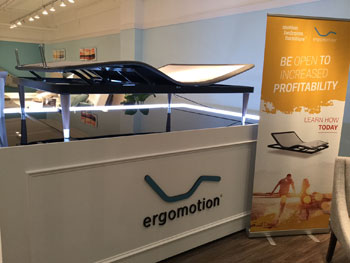 Ergomotion highlighted its 'motion bedroom furniture' in its High Point showroom.
HIGH POINT – A new product category is emerging: Motion bedroom furniture.
Yes, these are adjustable bed bases, but they are slim and sleek and designed to fit into bedroom furniture groups.
Products positioned in the motion bedroom furniture segment did well at Klaussner and at Ergomotion, which has been touting that new category for several months.
Klaussner had a special display with a "motion bed" in its Smart Home Furnishings showroom, where it showcased its technology-oriented products. The idea there was to attract the attention of bedroom buyers and to win placements of those motion beds in bedroom displays.
Ergomotion has been saying that the "motion bedroom furniture" designation can open the adjustable bed category to new groups of consumers. Its "zero clearance" design means it can fit into any bedroom group, officials said.
Paris Fealy, Ergomotion's vice president of sales, said the motion bedroom furniture offerings brought in new buyers and helped the company enjoy a strong market.
Mark Akerman, president of Klaussner's Enso Sleep Systems division, said the motion beds were a major hit for Klaussner.
CommentsWrite a Reply or Comment:
You must be logged in to post a comment.