Selling The Furniture To Heat The House – Seeking Alpha
As I suggested to my newsletter (Forbes Real Estate Investor) subscribers back in January, I am bullish on the Mall REIT sector based on the mispricing that exists (valuation gap) and favorable growth outlook.
I have recently written on a number of my top Mall REIT picks, namely Simon Property Group (NYSE:SPG), Taubman Centers (NYSE:TCO), Tanger Factory Outlets (NYSE:SKT), GGP Inc. (NYSE:GGP) and PREIT (NYSE:PEI).
All of these Mall REITs (with the exception of PEI) are considered "A" malls based on their pricing power and demand, and I recently decided to SELL shares in Washington Prime (NYSE:WPG) as a result of the continued deceleration facing lower-quality retail tenants (i.e., slowing sales, store closures, etc.).
I informed subscribers in late 2016 that I was going to focus efforts primarily on the A malls, as my primarily catalyst was (and is) the hopeful recovery in SPG shares. As the dominant, 1000-pound gorilla in the REIT sector, SPG's performance should directly rise the tide for all ships, especially the Mall peers.
Since purchasing SPG on January 4th, shares have returned -2.66% and are now trading at $179.18 with a 3.87% dividend yield. Here's how it compares to the peers in terms of Total Capitalization:

I'm not the only REIT analyst with a bullish Mall REIT outlook. Here's how Mizuho's Haendel St. Juste sums up the sector:
A mall REITs continue to enjoy sound fundamentals… we've noted improved sentiment towards the Mall REITs in our recent investors, helped by the perceived improved economic implications of the presidential results, the stocks' sell-off since August and the undeniably cheap prevailing valuations.
St. Juste explained that "the mall REITs are better positioned to work today given the earnings clarity 'clean up' trade that has transpired through earnings, which has helped re-balance investor expectations for the sector, as well as for specific companies."
It's clear that store closures in retail continues to detract investors. This year's bankruptcies list includes Wet Seal, American Apparel, and The Limited, while Macy's (NYSE:M), Sears/Kmart (NASDAQ:SHLD), Gap (NYSE:GPS), and Guess (NYSE:GES) have all announced plans to close stores.
Macy's and Sears are often anchor stores that are meant to draw traffic to malls and other shopping centers, and specialty stores like Gap depend on the boost. Traffic declines are bad for them, mall operators, the restaurants and food courts housed in those shopping centers, and other groups that depend on the mall ecosystem.
According to Floris van Dijkum, with Boenning & Scattergood, Inc. (or B&S):
De-malling risks are real… for 'C' mall industry! We believe that bottom 100 'B' malls potentially could be also be at risk. We estimate there could be 825 malls left in 10 years. Over medium term, internet could largely subsume estimated $27 billion of annual retail sales derived from 'C' mall segment. This amount is in-line with our estimate of over $25 billion of sales which comes from the 30 most valuable malls in the country.
Of the 1,080 US malls according to ICSC, B&S estimates that all "C" ranked quality malls risk obsolescence over the next five years, while the 14% "B-" ranked malls could have trouble differentiating themselves. The big beneficiaries of this winnowing process will be the "A" mall owners.
The listed mall sector controls 80% of the top 109 malls, with Taubman Centers having the largest percentage of its portfolio rated "A++" or "A+" at 67% of value. SPG, GGP, and Macerich (NYSE:MAC) also have a significant percentage of their value in the top two echelons.

Seritage Realty (NYSE:SRG) has the greatest number of total Sears stores, while SRG and WPG have the greatest percentage of malls with this troubled anchor. While traditional "A" mall owners have significant exposure to Macy's, this slimming department store will likely close additional, less productive locations at "B" and "C" rated malls.

Seritage Is Considered "Ultra"-speculative
I began covering SRG back in January 2016, and I have written four articles on the company. In my latest article, I argued that "for the higher-risk investor who is willing to ride out the Sears drama while waiting on Seritage to create value, this REIT may be right up your ally."
At the time of the article, I stated that I was maintaining a Neutral position, and I have now decided to initiate a SELL. Read on…
As far as I'm concerned, the wager on Seritage is whether or not Sears goes BK. Clearly, the struggling retailer has a few more levers to pull, but BANKRUPTCY is a TRUE OPTION.
As I stated above, I am becoming increasingly skeptical of the B and C Mall REITs, and I am simply maintaining a more cautious outlook. As evidenced below, SRG is the most expensive Mall REIT and trades at a 22% premium to NAV (estimated by B&S).

Tick, tock, tick, tock…
SRG continues to race against time to redevelop as many of its locations in the belief that the financing market for its properties will improve by the end of 2017. When it went public in 2013, the company had 100% exposure to Sears, and that exposure has been reduced to around 30% (or 70% now). According to a recent press release, SRG signed 89,000 square feet of new leases during the fourth quarter of 2016 (this brings third-party rental income to $41 million).
SRG commenced eight new redevelopment projects in the fourth quarter, with an estimated total investment of $106.1 million and an incremental yield ranging from 14-15%. The market initially warmed to the higher estimated new rent per square foot, but B&S believes "the new rent is more a reflection of the assets quality being redeveloped as returns don't deviate much from prior quarters."
The Golden Rule: He Who Has The Gold Makes All The Rules
I'm sure you have heard about the "golden rule," that is, "he who has the gold, makes all of the rules."
At the end of the third quarter, SRG had a low cash balance of $178 million and an undrawn credit line of $100 million. The lack of cash could halt future redevelopments to replace and upgrade recaptured space, and could impair SRG's ability to refinance though normal banking or capital markets channels.
Also, based on the current level of capital input that SRG has put into its Sears redevelopment projects, B&S estimates that each Sears box could cost approximately $10 million, on average. Covenants between SRG and CMBS lenders, however, stipulate that any capital project in excess of $7.5 million will require lender approvals.
Such reporting requirements put a brake on management's ability to add value and add bureaucratic costs. Additionally, the loan agreement specifies that a SHLD bankruptcy scenario would cause the CMBS pool to sweep all cash. According to B&S:
the market is currently assigning a greater than 40% risk that SHLD will file for bankruptcy in 2017, leaving SRG shareholders at potentially significant risk…
In December 2016, controlling shareholder ESL Investments (a hedge fund managed by Edwards Lampert), owning approximately 30% of SRG, offered a term sheet of $300 million of unsecured debt at a 7.5% interest rate. The pricing appears attractive compared to the mezzanine CMBS at current LIBOR plus 7.25% spread.
What? Eddie is burning both sides of the candle?
That's right. It's apparent that there are conflicts of interest related to ESL. How could the billionaire (worth $1.99 billion, according to Forbes) be both a borrower (through its equity holding) and lender? Remember that ESL has also served as a lender to SHLD while being the controlling shareholder of the company.
If SHLD were to file for bankruptcy, will the interests of common shareholders and ESL remain aligned?
In the game of musical chairs, who will be left standing when the music is over?
It won't be H2, the mezzanine CMBS lender which is in a senior position in a potential SHLD bankruptcy. It won't be Eddie either… it will be the SRG common equity shareholder.
Selling the Furniture to Heat the House
Sears is burning through cash, causing Fitch to ring alarm bells, while rating the company's debt at "CC" and downgrading Sears Roebuck Acceptance Corp's (SRAC) unsecured notes to "C." In the first week of January, Sears successfully agreed to the sale of its Craftsman brand to Stanley Black & Decker for $525 million in up-front cash, with a further $250 million in three years, including additional payments based on several hurdles. (Source B&C).
However, the financial condition of Sears continues to worsen despite recently announced closures of money-losing stores.
Fitch estimated that the company stands to lose $1.0 billion in 2017 before pension obligations and capex, even with recent store closures, as same store-sales continue to fall by a high-single digit percentage after an 8% fall last year. Fitch expects total Sears cash burn of $1.8 billion in 2017, with a similar amount the following year. As Sears' financial condition deteriorates further, the company will come under increased pressure to redevelop its space.
According to B&S:
Sears has $1.1 billion of CMBS debt on its wholly-owned properties that requires approximately $63.8 million in annual interest payments. Current total contractual (including not yet paying) third-party rental income is $69.4 million, but part of this income comes from SRG's JV with GGP.
Based on the split of wholly-owned compared to total NOI (currently at 87%), B&S estimates that third-party rental income from Sears' wholly owned properties stands at $60.8 million and produces NOI of $54.7 million – insufficient to cover the interest on the CMBS debt, should SHLD file for bankruptcy and stop paying rent.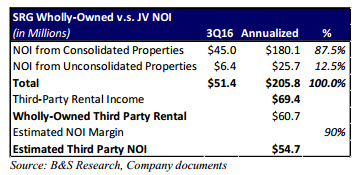 B&S believes SRG could still raise equity at a premium to pay down debt at par and create significant value. However, it appears the company is preparing for a "white-knuckled ride" in order to refinance its restrictive CMBS debt once the credit markets are more receptive. As Floris van Dijkum explains:
SRG continues to trade at a large and only premium to NAV in the mall sector. The irony is that investors could buy SPG and GGP, two blue chip mall REITs, at a significant discount while both are pursuing similar value creation strategies for their department store space. Both SPG and GGP have higher average quality assets, significantly greater financial firepower, a highly diversified income stream, and each retains more cash flow annually than SRG receives in rent.
Mr. Buffett, Are You Listening?
On December 10th, SRG shares jumped more than 12% in early trading as billionaire investor Warren Buffett disclosed an 8.02% stake in the REIT (in a Schedule 13G filing the same day). Buffett's stake of 2.0 million shares has returned just 9.2% (since December 10, 2015):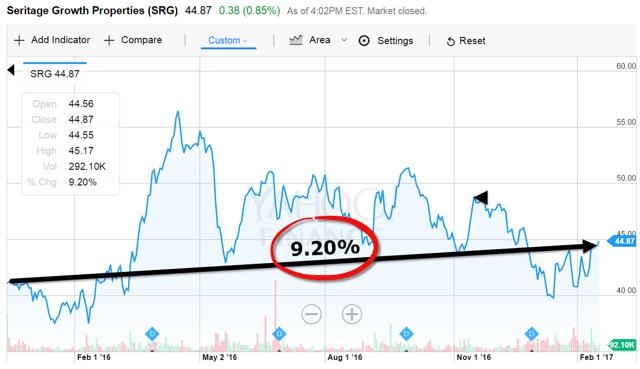 Is the thrill of victory worth the agony of defeat?
Here's how blue-chip Realty Income (NYSE:O) has performed during the same period (since Dec 10, 2015):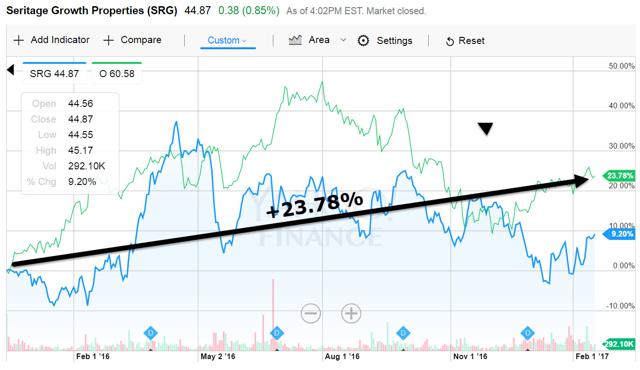 OK. It's clear Buffett likes SRG for the outsized development opportunity, but as I stated above, the common equityholders are at the highest risk.
It would seem logical that Buffett seed SRG with lower-risk vehicles, either through a preferred private placement of through a senior CMBS structure. As stated above, H2 provided CMBS funding that features a cash flow sweep feature triggered by a Sears bankruptcy. With a 40% likelihood of Sears defaulting in 2017, there is substantially more risk for common equityholders, and H2 is in the driver's seat (and SRG shares could become virtually worthless).
In summary, SRG is a speculative play, and given the more recent news related to Sears, I am downgrading SRG from a HOLD to a SELL. There are better opportunities in the Mall sector right now, and the conflicts of interest related to ESL make me nervous. Given the volatility in the retail sector, I am taking a hardline position to invest only in the A mall REITs. As Floris van Dijkum explained, "the house is nearly empty" as Sears continues to "sell the furniture to heat the house."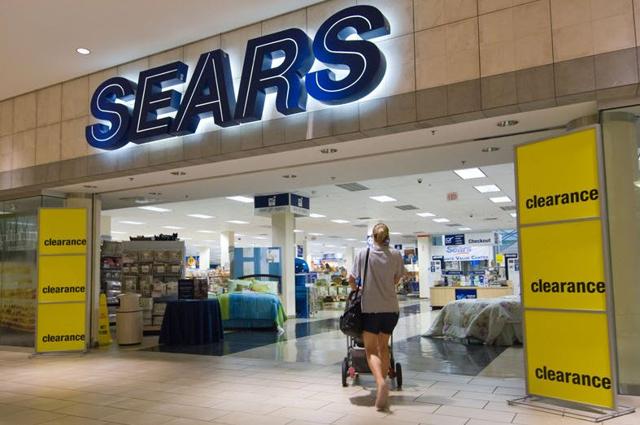 Check out The REIT Beat if you'd like to get more of my ideas, including early access to my highest-conviction REIT plays, access to Q&As with management teams, weekend REIT reports, and more. We'd love to have you on board, so have a look.
Source: F.A.S.T. Graphs and WWW.BOENNINGINC.COM
Author Note: Brad Thomas is a Wall Street writer, and that means he is not always right with his predictions or recommendations. That also applies to his grammar. Please excuse any typos, and be assured that he will do his best to correct any errors, if they are overlooked.
Finally, this article is free, and the sole purpose for writing it is to assist with research, while also providing a forum for second-level thinking. If you have not followed him, please take five seconds and click his name above (top of the page).
Disclaimer: This article is intended to provide information to interested parties. As I have no knowledge of individual investor circumstances, goals, and/or portfolio concentration or diversification, readers are expected to complete their own due diligence before purchasing any stocks mentioned or recommended.
Disclosure: I am/we are long APT, ARI, BXMT, CONE, CORR, CCP, CCI, CHCT, CLDT, CUBE, DLR, DOC, EXR, FPI, GPT, HTA, HASI, KIM, LADR, LTC, LXP, O, OHI, QTS, ROIC, STWD, SNR, STAG, SKT, SPG, STOR, TCO, UBA, VTR, WPC, PEI, EQR, DEA, MVEN.
I wrote this article myself, and it expresses my own opinions. I am not receiving compensation for it (other than from Seeking Alpha). I have no business relationship with any company whose stock is mentioned in this article.
CommentsWrite a Reply or Comment:
You must be logged in to post a comment.