Jeremy Corbyn has floated the idea of letting Labour party members choose some members of his top team in a move to counter calls for the return of full shadow cabinet elections.
Speaking before a debate at the weekly meeting of the parliamentary Labour party (PLP) on letting the party's MPs elect the shadow cabinet, a spokesman for the Labour leader said the party should also be considering letting members, or party conference, elect some shadow cabinet members.
Corbyn's spokesman also said any move to restore annual shadow cabinet elections should be "part of the wider debate about party democratisation and reform".
Annual shadow cabinet elections, in which Labour parliamentarians voted to choose shadow ministers, were a long-standing convention for the party in opposition until Ed Miliband persuaded MPs to vote to get rid of them in 2011, on the grounds that a leader should be free to choose his frontbench team.
But the Labour MP Clive Betts has tabled a motion for debate at the PLP meeting on Monday night proposing their return. Betts says he wants to promote party unity, but the plan is being seen as one that would constrain Corbyn because most MPs do not support him and shadow cabinet elections could stop him giving the top frontbench jobs to his supporters.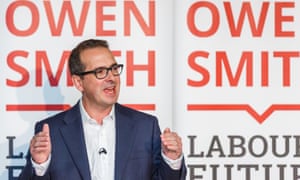 On Sunday, in an interview with BBC News, Owen Smith, who is challenging Corbyn for the leadership, said that bringing back shadow cabinet elections was "probably a good idea" and that "getting rid of them was a mistake".
He continued: "It's proved to be a way in which the Labour party can remain united in future. So I will be supportive of that. But we need to see whether that comes forward."
A few hours later a spokesperson for Corbyn said that the Labour leader also supported more internal democracy, but that he was interested in going further.
"Jeremy supports democratisation and reform of the party rules and structures," the spokesperson said.
"How the shadow cabinet is made up is one part of that debate, including whether part of it should be elected, by MPs, by members, or by conference. Any review also needs to take account of the need to represent regions and nations."
After the PLP debates Betts' motion on Monday, Labour MPs are expected to hold a formal ballot on the plan, probably on Tuesday. In 2011 Labour MPs backed Miliband's proposal to abolish the annual elections by 196 votes to 41, but five years later the extent of opposition to Corbyn in the PLP means there is a good chance of that decision being reversed.
For the new rule to take effect, it would have to be approved by the national executive committee (NEC), where Corbyn has a slim majority on some issues, and by the party conference.
Corbyn's proposal seems intended to minimise the chances of a simple return to the old system by turning any conference vote on this into a much wider debate about party democracy.
His spokesperson said: "If the motion to the PLP on Monday is passed, it will go the NEC, and depending on what's decided there, to conference, and needs to be part of the wider debate about party democratisation and reform."
In an email to Labour MPs explaining his plan, Betts said: "Whatever the result of the leadership election on 24 September, it is clear that the PLP must take steps to come together … [Holding shadow cabinet elections] would ensure that the shadow cabinet has the support of backbench Labour MPs and that the entire PLP can become an effective opposition and hold the government to account from a position of unity."
In his BBC News interview, Smith also dismissed a recent YouGov poll of people voting in the Labour leadership contest giving Corbyn a 24-point lead.
"There's only been one poll so far, and the only real vote that we had was in the GMB, and the GMB had 40,000-odd people voting – 26,000 of those voted for me, just 17,000 for Jeremy," he said.
"I think that this is still balanced on a knife edge, and I think lots of people are still to make their mind up. And I'm not being blown off course by that one poll in the Times."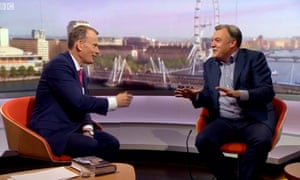 On Sunday Ed Balls, the former shadow chancellor, told the BBC's Andrew Marr Show that it had been a "catastrophic mistake" for Miliband to get rid of Labour's electoral college and to allow registered supporters to vote in leadership contests. The new system helped Corbyn win his overwhelming victory last year.
Balls said he had told Miliband that he was "very worried" about the proposed reform but that he was unable to stop it going ahead. "I didn't foresee how bad it would be, but I knew enough about Labour history to be worried and the outcome has been much worse than I expected," he said.