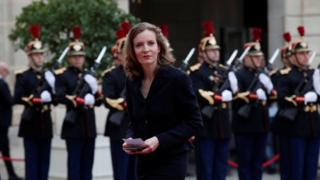 A call to support the political project of French President Emmanuel Macron is causing disarray among conservatives as Mr Macron prepares to unveil his new cabinet.
More than 170 lawmakers from the right have signed a statement of support for Mr Macron after he named Republican Edouard Philippe as prime minister.
One Republican has accused Mr Macron of "dynamiting" the political landscape.
Mr Macron's cabinet is expected to span the left, right and centre.
He will announce the slimmed down group of 15 ministers at 15:00 local time (13:00 GMT), following a delay as extensive background checks were carried out into their tax records and any conflicts of interest.
He has promised a gender-balanced cabinet and there are suggestions it could include figures from civil society, economists, judges and entrepreneurs as well as politicians.
Among the conservatives said to be in the running are Nathalie Kosciusko-Morizet, Bruno Le Maire and Thierry Breton.
Ms Kosciusko-Morizet was among more than 170 conservatives who agreed to "seize the outstretched hand" of Mr Macron and support his proclaimed political project of bridging the divide between left and right long entrenched in French politics.
But the move has been met by a counter-statement signed by more than 570 conservatives.
Ahead of legislative elections in June, Republican campaign manager François Baroin accused Mr Macron of "dynamiting not political reshaping".
Meanwhile the Republicans' deputy secretary general Éric Ciotti was quoted as calling the pro-Macron initiative "a slap" rather than an outstretched hand – suggesting supporting Republicans were opportunistically seeking a role in the new government.
The initiative has also been criticised on the left, with defeated Socialist presidential candidate Benoît Hamon among the dissenters.
"Who can think that the left will pull itself together if it is part of a coalition led by a member of the Republican party?" he said, according to Reuters news agency.
Others tipped for a place in the cabinet include:
Veteran centrist leader Francois Bayrou
European lawmaker Sylvie Goulard
Lyon's Socialist mayor Gerard Collomb
Nicolas Hulot, a well-known environmentalist
Macron campaign organiser Richgard Ferrand