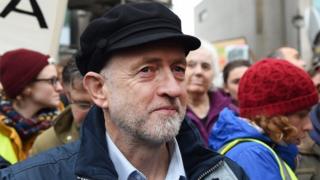 Labour leader Jeremy Corbyn is meeting his shadow cabinet amid splits over whether to back air strikes in Syria.
Mr Corbyn is reported to be offering his MPs a free vote on whether to back strikes, which he opposes.
Shadow chancellor John McDonnell had urged him to offer a free vote, but his ally Diane Abbott said MPs should be instructed to vote with the leadership.
Ahead of the shadow cabinet meeting, Labour said 75% of party members it polled had opposed bombing.
BBC chief political correspondent Vicky Young said Mr Corbyn's proposals did not appear to be as "straightforward" as simply offering a free vote to MPs. Mr Corbyn appeared to be saying Labour's official position would be to oppose air strikes, notwithstanding the free vote, she added.
Labour survey
The party carried out a "consultation" on the issue over the weekend, and said it had received 107,875 responses of which 64,771 were confirmed as full Labour members.
But some people questioned the polling. Labour MP Angela Smith told BBC Radio 4's The World at One it was a "rather vague consultation" and that she knew of a member planning to complain because she had not received an email.
The government is attempting to persuade MPs to back extending UK air strikes aimed at so-called Islamic State into Syria.
David Cameron says he will hold a vote on air strikes only if certain he has the clear support of the Commons, saying losing the vote would hand the Islamic State group a propaganda victory.
Mr Corbyn has written to Mr Cameron asking for a two-day debate to take place ahead of the vote.
A single day, the Labour leader said, "would inevitably lead to important contributions being curtailed".
Although Mr Cameron has a parliamentary majority, there are enough Conservative MPs opposed to the UK joining in the bombing of IS targets in Syria to put the result in doubt.
The third largest party in the Commons, the SNP, is opposed to the bombing, so the stance of Labour MPs is key to whether or not Mr Cameron would win such a vote.
---
Analysis: 'A crucial week'
By Ben Wright, BBC political correspondent
It's all about the numbers. Even though the government has a majority of 12, a number of Conservative MPs – perhaps a dozen – have strong doubts about extending air strikes to Syria.
And the government will not risk a defeat in the House of Commons. In fact, it wants an emphatic win. The government won't get the support of SNP MPs, the third largest party in Parliament, so it needs a chunk of Labour MPs with it.
Some Labour MPs had briefings with the MoD this weekend and are wrestling with the arguments, listening to constituents. It is why Jeremy Corbyn's decision is so important.
If he allows a free vote, perhaps half his shadow cabinet and around 60 Labour MPs may vote for air strikes. If he insists on collective opposition there will be an almighty row within the Parliamentary Labour Party that could scupper the government's plans.
One shadow cabinet minster has told me there's a chance Labour will not agree a position on Monday at all and will wait for the wording of the government's motion before deciding how to vote. It will be a crucial week.
---
Mr Corbyn says he has still not decided whether to allow his MPs to follow their conscience in a free vote, or insist they collectively oppose military action – but he was clear in a Sunday Marr Show interview that he would make the decision himself.
Ms Abbott, the shadow international development secretary, told BBC Radio 4's Today programme she believed public opinion was "moving towards us".
"I think it's clear now that Cameron's case [for war] is unravelling. Party members and increasingly the country want to see us oppose these air strikes."
She said Labour members wanted the party to oppose air strikes "with every sinew of our being" which meant imposing a three-line whip on the vote.
"The problem about a free vote is it hands victory to Cameron on these air strikes… on a plate," she added.
"I don't think that's what party members want to see."
Mr Corbyn insists he represents the views of Labour members, an opinion echoed by Len McCluskey, the leader of Britain's biggest trade union.
In a Huffington Post blog, the Unite general secretary accused Labour MPs of a "sickening" effort to get rid of Mr Corbyn by exploiting the row over Syria.
Defence Secretary Michael Fallon said the government was "continuing to build the case" for strikes.
He told the BBC: "This isn't just about Jeremy Corbyn – it's about Parliament as a whole to respond… and be determined to do more in our self defence to keep our country safe."
---
What do you want to know about potential UK air strikes on IS in Syria? Frank Gardner will look at the key issues on the BBC News at Ten. You can send us your queries by emailing haveyoursay@bbc.co.uk
Please include a contact number if you are willing to speak to a BBC journalist. You can also contact us in the following ways:
Whatsapp: +44 7525 900971
Tweet: @BBC_HaveYourSay
Send an SMS or MMS to 61124 or +44 7624 800 100