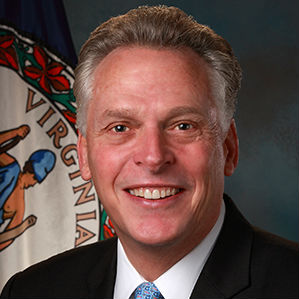 Governor McAuliffe released the Children's Cabinet annual report during his visit to the group's inaugural stakeholder forum. The Governor was joined by members of the Children's Cabinet, as well as 130 stakeholders, organizational leaders, elected officials, and advocates. The Children's Cabinet was the first of its kind in Virginia, created by Executive Order 21 in order to align the policies and priorities of state agencies that provide services to the Commonwealth's youth.
"It is imperative that Virginia's education system takes an innovative, holistic approach to ensure our children have the tools and resources necessary for a world of cyber and interconnectivity," said Governor McAuliffe, speaking at today's announcement. "Two years ago, I established the Children's Cabinet and I am proud of the work the group has accomplished in such a short time. We will continue to develop our classrooms with positive behavior structures, cutting-edge technology, and relevant skill development for the next generation of Virginians to be successful in the new Virginia economy."
The Children's Cabinet is chaired by Secretary of Education Dietra Trent and Secretary of Health and Human Resources Bill Hazel. Members also include Lt. Governor Ralph Northam, First Lady Dorothy McAuliffe, Secretary of Commerce and Trade Todd Haymore, and Secretary of Public Safety and Homeland Security Brian Moran.
Accomplishments from their second year, highlighted in the report, include:
The Children's Cabinet's Challenged Schools initiative is seeing improved student outcomes, increased attendance, decreased suspensions, and enhanced school nutrition in Petersburg City Public Schools
The Children's Cabinet's Classrooms not Courtrooms Initiative has new data, joint trainings, and enhanced resources for school administrators and public safety personnel to ensure that Virginia's students stay in school and out of the juvenile justice system.
The Governor's bold biennial budget contained investments in 9 of the 12 Children's Cabinet priorities
"Working together across secretariats and in collaboration with the administration, stakeholder organizations and local leaders, we have taken the work of the Children's Cabinet to the next level," said Secretary of Education Dietra Trent. "Two years ago, the Governor called on us to serve the Commonwealth's children and youth, and we took that charge to heart. We are eager to continue this strategic work to support the kind of life-changing solutions our young people deserve."
"We know that the well-being of many of Virginia's children depends on the close collaboration and activities of many agencies and secretariats, and that children who are healthy and safe and housed are more ready to learn,"said Secretary of Health and Human Resources Dr. Bill Hazel. "The successes of the Children's Cabinet, reflected in this report, are due largely to its ability to cross these sectors and measure progress to provide a better opportunity in life for these children."
The annual report and additional information can be found online here.