'Sophia The First,' A Canadian Toddler, Names Members Of Justin Trudeau's … – Huffington Post Canada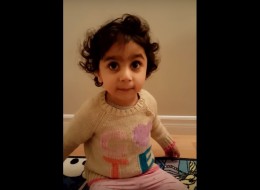 Can you identify up to 10 members of Justin Trudeau's cabinet when given their title? This Canadian toddler can.
While these Canadian cabinet ministers have only held their positions for just over three weeks, young "Sophia" — who is dubbed a "toddler and future politician" — is able to match the name to their designation.
In a video uploaded to her "Sophia the First" YouTube channel on Friday, the child is asked by her father to connect the dots between these politicians and their freshly-appointed jobs. He begins by asking her to identify herself, then, with some prompting, asks her about Prime Minister Justin Trudeau.
"Do you know who the prime minister is?" asks her father. "Justin Trudeau," she replies, sheepishly.
The questioning continues.
"Sorry? Sophia, look at me. Who is the prime minister?"
"Justin Trudeau!"
"The honourable?"
"The Right Honourable Justin Trudeau!"
"The Right Honourable Justin Trudeau, excellent."
Sophia goes on to successfully name Canada's ministers of immigration, global affairs, health, finance, justice, national defence, public safety, transport and indigenous and northern affairs. When asked who her favourite minister is, she replied with Maryam Monsef, the democratic institutions minister from the riding of Peterborough-Kawartha in Ontario.
Monsef retweeted several tweets that included Sophia's video on her official account.
The video was first shared on social media by Fawad Popalyar the same day it was posted to YouTube, but this is not Sophia's first shot at viral fame. Her YouTube channel also includes her renditions of Katy Perry's "Roar" and the nursery rhyme, "Peter Piper."
https://t.co/36V9JgeDBo Sophia names PM @JustinTrudeau 's Cabinet. Calls @MaryamMonsef her favorite.

— Fawad Popalyar (@popalyar) November 28, 2015
What do you think of Sophia's video? Sound off in the comments below.
ALSO ON HUFFPOST:
Minister of Indigenous and Northern Affairs

A family physician who has been an MP since 1997, Bennett was Canada's first minister of state for public health and oversaw the 2003 response to the SARS epidemic. In recent years, Bennett has served as the party's vocal critic on aboriginal affairs.

Minister of Justice and Attorney General of Canada

Wilson-Raybould is a former Crown prosecutor and regional chief of the B.C. Assembly of First Nations.

Minister of Public Services and Procurement

An MP since 2008, and the party whip, Foote previously held several cabinet portfolios in Brian Tobin's provincial government.

Minister of International Trade

An MP since 2013, Freeland was courted by Trudeau's team when she was a senior editor at Thomson Reuters in New York City.A Rhodes scholar, she is a well-known author and journalist. She was part of Trudeau's team of economic advisers.

Minister of Health

Philpott is a family physician, associate professor at the University of Toronto, and former chief of the department of family medicine at Markham Stouffville Hospital.

Minister of International Development and La Francophonie

Bibeau worked for the Canadian International Development Agency (CIDA) in Ottawa, Montréal, Morocco and Benin, Africa, before settling and launching her own business in her riding.

Minister of Canadian Heritage

Joly, 36, made a name for herself by finishing second to ex-Liberal cabinet minister Denis Coderre in the Montreal mayoral race in 2013. She's a lawyer and communications expert.

Minister of National Revenue

A small business owner who has been an elected warden for the Regional County Municipality of Rocher Percé since 2010, Lebouthillier won a seat in Gaspé that the Liberals haven't held in more than a decade.

Minister of the Environment and Climate Change

McKenna, a human rights lawer, was a former legal adviser for the United Nations peacekeeping mission in East Timor and founded Canadian Lawyers Abroad (now known as Level), a charity focused on global justice issues.

Minister of Employment, Workforce Development, and Labour

Mihychuk was an NDP MLA in Manitoba from 1995 to 2004, serving as minister of industry, trade, and mines, and later minister of intergovernmental affairs. She ran an unsuccessful Winnipeg mayoral campaign in 2004.

Minister of Democratic Institutions

Monsef, a community organizer, was born in Afghanistan. She fled the Taliban and came to Canada as a refugee with her widowed mother and sisters in 1996.

Minister of Sport and Persons with Disabilities

Qualtrough is a lawyer and former Paralympian. Legally blind, she won three Paralympic and four World Championship medals for Canada in swimming and was president of the Canadian Paralympic Committee.

Minister of Science

Elected in 2008, Duncan taught meteorology, climatology, climate change, and medical geography at the university level.

Minister of Status of Women

Hajdu was executive director of Thunder Bay's largest homeless shelter.

Minister of Small Business and Tourism

Chagger, 35, worked for the Kitchener-Waterloo Multicultural Centre. She also worked on Trudeau's leadership campaign.
CommentsWrite a Reply or Comment:
You must be logged in to post a comment.