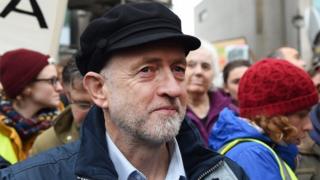 Labour leader Jeremy Corbyn is due to meet his shadow cabinet to discuss possible air strikes in Syria amid deep splits in the parliamentary party.
The government wants a Commons vote on the question but Mr Corbyn is opposed to any further military action.
Many shadow cabinet members support air strikes and are urging their leader to allow Labour MPs a free vote.
Meanwhile, a union leader has accused Labour MPs of using the issue to start a coup against Mr Corbyn.
The government has insisted it will hold a vote on air strikes only if it is certain it has the clear support of the Commons, which means winning the backing of many Labour MPs.
But Mr Corbyn said he had still not decided whether to allow his MPs to follow their conscience in a free vote – or insist they collectively oppose military action.
The latter risks a furious backlash from some members of his shadow cabinet, says BBC political correspondent Ben Wright, and could derail the government's hopes of holding a vote within days.
Our correspondent says Mr Corbyn's meetings with his shadow cabinet and backbench MPs are likely to be strained and fractious – and possibly critical in determining whether the UK will soon be joining other countries in dropping bombs on Islamic State (IS) targets in Syria.
Mr Corbyn insists he represents the views of Labour members, an opinion echoed by the leader of Britain's biggest trade union, Len McCluskey.
The Unite general secretary accused Labour MPs of a "sickening" effort to get rid of Mr Corbyn by exploiting the row over Syria.
Defence Secretary Michael Fallon has said the government does not yet have enough votes from MPs to back the extension of air strikes into Syria as well as Iraq.
Mr Fallon told the BBC he had been in talks with Labour MPs but added: "We've got to keep building the case."
He admitted it would be harder to get support if Labour ordered its MPs to vote against air strikes.
---
Analysis: 'A crucial week'
By Ben Wright, BBC political correspondent
It's all about the numbers. Even though the government has a majority of 12, a number of Conservative MPs – perhaps a dozen – have strong doubts about extending air strikes to Syria.
And the government will not risk a defeat in the House of Commons. In fact, it wants an emphatic win.
The government won't get the support of SNP MPs, the third largest party in Parliament, so it needs a chunk of Labour MPs with it.
Some Labour MPs had briefings with the MoD this weekend and are wrestling with the arguments, listening to constituents.
It is why Jeremy Corbyn's decision is so important.
If he allows a free vote, perhaps half his shadow cabinet and around 60 Labour MPs may vote for air strikes. If he insists on collective opposition there will be an almighty row within the Parliamentary Labour Party that could scupper the government's plans.
One shadow cabinet minster has told me there's a chance Labour will not agree a position on Monday at all and will wait for the wording of the government's motion before deciding how to vote.
It will be a crucial week.
---
Mr Corbyn has insisted he is "not going anywhere", despite reports of potential leadership challenges against him from his MPs, telling the BBC he is enjoying "every moment" of his time as leader.
He said: "I feel there are some people who haven't quite got used to the idea that the party is in a different place. It's much bigger than it's been in all of my lifetime.
"We have a very open electoral system. The result was a very, very clear mandate for me to be leader of the party."
MPs rejected a vote for air strikes against Syrian government targets in 2013. However, it is taking part in air strikes against IS in Iraq after MPs backed the move last year.