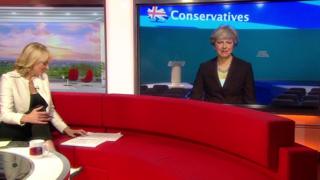 Theresa May has brushed off questions about Boris Johnson's recent Brexit comments – saying she does not want to be surrounded by "yes men".
The prime minister told BBC Breakfast "leadership is about ensuring you have a team… of different voices around the table so you can discuss matters".
Mrs May was speaking ahead of a day in which the foreign secretary is due to deliver his key conference speech.
It comes after Mr Johnson set out his Brexit "red lines" at the weekend.
Mrs May has been shown the foreign secretary's speech and is understood to be happy with it, the BBC's assistant political editor Norman Smith.
Sources say the speech is 100% loyal to the prime minister and the Brexit agenda set out in her Florence speech last month, Norman Smith added.
Asked whether there were any red lines which Mr Johnson himself should not cross, Mrs May told Breakfast: "I don't set red lines. Everybody uses this phrase 'red lines'. I don't set those sort of red lines.
"All I would say is actually I think leadership is about ensuring you have a team of people who aren't yes men, but a team of people of different voices around the table, so you can discuss matters, come to an agreement and then put that government view forward, and that's exactly what we've done."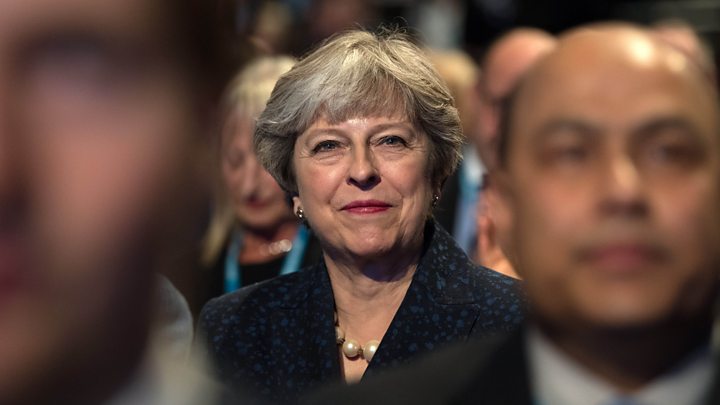 Speaking later on BBC Radio 4's Today, Mrs May said the foreign secretary and the rest of the cabinet were united behind her Brexit strategy, insisting that European leaders knew what the UK wanted and that her Florence speech had "changed the dial".
"What I am very clear about is of course the prime minister is in charge," she said.
Mrs May said the foreign secretary would be talking about his vision for a "global Britain" after Brexit in his speech later and she supported that.
On Europe, she said she backed an implementation period of about two years after the UK leaves in March 2019 but suggested that some changes could come into effect earlier if appropriate.
On her own future, she said was committed to delivering the "mission of government", insisting that there was "a long term job to be done here".
She acknowledged that her message "did not come across in the general election" as she would have wanted and it was apparent the concerns of the British people were "more keenly felt" than people had thought.
Mrs May said the election had shown that many people felt "left behind and ignored" but she insisted that change would not happen overnight and no "great phrase" would transform things.
"I am very clear about the problems in society but I am very clear as a politician and particularly as prime minister, we owe it to people to show how we can deliver and resolve those politicians.
"There is no simple idea that is going to change all of these. It will take action in a number of areas."